Fundraising is the cornerstone of the KPTO. Our annual fundraising efforts include
One and Done, Box Tops, My Coke Rewards, Go Green! and Recycling
---

​Box Top Classroom Totals KES + KIS total $4107.30 to date #2 in the State!


​KES Classroom Totals
As of February 1, 2018
---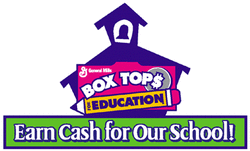 Box Tops for Education!
You know those pink rectangles you see on many of your food products?
One of the ways that the KPTO earns money for the many programs it supports is through the collection of Box Tops. Box Tops can be found on General Mills products and lots of other products, many of which you probably already use and have on your shelves at home.
For a list of participating products and other information, visit
www.boxtops4education.com
. Box Tops are NOT just on Cheerios anymore....... Green Giant vegetables, and "Food Should Taste Good" are some examples of recent additions.
BONUS BOX TOPS
Box Tops constantly run contests and games where you can win thousands of Box Tops for our schools. Please click on this link to see what is currently happening on the site:
BoxTops4Education.com
DID YOU KNOW…
You can send in your Box Tops any of these ways:
1. On a printed collection sheet
a.
Collection Sheet - Thinking of Snow?
b.
Collection Sheet - Magic Box Top Dollar
c.
Collection Sheet - April Showers Bring May Flowers
2. On a blank piece of paper (please put 10 or 25 Box Tops on the paper)
3. Loose in a plastic bag
---
FALL FUNDRAISERFUNd the Fun : Check Writing Campaign
Welcome to a new school year! This year the Kingston PTO has chosen to, once again, do a check writing campaign as our fundraiser for the 2017-2018 school year. We are hoping that this can be our one and only fundraiser for the year and will eliminate the need for additional more time-consuming fundraisers later on.
September 11th is the kick off! Just send in a check with the Payment Form or donate via Paypal on the home page!
Remember to send in the form even when donating online. Each class receives participation credits. One winning class from each grade will win a prize. Any donation counts towards a participation credit!The best part about this fundraiser is 100% of your contribution will go directly to our schools!
What does my contribution go towards?
Our annual fundraising requirement is $42,000 (or $40 per student). This amount covers the cost of enrichment programs, age specific events and school supplies that the schools couldn't otherwise provide. The Kingston PTO provides 100% funding for:
Field Trips
Educational Assemblies and Guests
6th Grade Celebration
Breakfast with Santa
Boys and Girls Night Out
Fall and Spring Staff Appreciation
How does the campaign work?
It's easy! Simply write one check for your tax deductible* family contribution and send it to school, along with the form, in your child's backpack. The campaign will start
Monday, September 11th.
​
In addition, we are now able to accept Corporate Matching Donations. Please check with your company to see how your company can participate.
Thank you for your support of our students and staff!
Sincerely,
KPTO
* Kingston Parent Teacher Organization Inc. is registered with the IRS as a 501(c)(3) corporation and all donations are taxdeductible. Tax ID 26-4761034.
​
MY-COKE REWARDS

YOU can make a difference for our schools!

KES and KIS have joined the My Coke Rewards for Schools program. That means every time you enjoy a participating Coca-Cola product (and there are lots of them), you can donate the My Coke Rewards points to our school. The donations will help give our students things they need, like sports gear, creative supplies, books, classroom tools and more!

Here's how YOU can make a difference:

· Purchase your favorite Coca-Cola drink to get codes (they're on hundreds of packages, in lots of flavors and sizes).

· Go to mycokerewards.com (register if you aren't a member)

· Enter codes to collect points - choose "Donate to Your School" from the six ways to spend points.

· Find KES/KIS by Zip Code 02364. When our school's page comes up, click "Donate Points Now" and enter the amount you'd like to donate.


GO GREEN!
Turn your trash into KPTO Treasure!

Recycling your newspapers, magazines, and junk mail in the receptacles outside
the schools is an easy way to make money for the KPTO.

---

Abitibi bins collect paper to be recycled - paper is weighed and our schools earn $ based on amount collected (see below for info!). Three bins available on campus (one behind KES, one at North Wing of KIS and one by the entrance to KIS parking lot) and one at Independence Mall all generate money for our PTO.

Total Pounds Collected: 120,000.00 Total Tons Collected: 60 Wow!

Resources Saved by Recycling Our Waste Paper
*Calculations for School's paper recycling program since inception.

---
Gallons of Water: 420,000.00
LBS of Green House Gases: 3,600.00
Gallons of Oil: 23,400.00

KWh of Electricity: 246,120.00
Trees: 1,020.00
Cubic Yards of Landfill Space: 180.00
Do you have material goods you'd like to donate?
Before donating material goods to KPTO, please complete
this form letter
and bring the completed form to the next monthly meeting. Either the Treasurer or another officer will sign the forms as evidence that the donated items were received. The IRS has ruled that it is the donor's responsibility to determine the appropriate value of the item(s) donated. The KPTO does not make any opinions on the appropriateness of the value assigned by the donor and does not take any responsibility for incorrect determinations of value.